UIC Business Students Attended the 16th Regional AMA Conference
UIC Business Students Attended the 16th Regional AMA Conference Heading link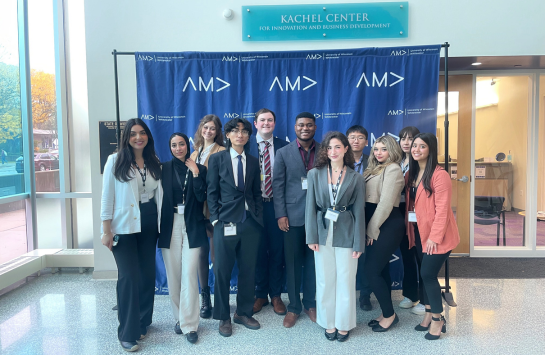 The 16th Regional Conference hosted by the American Marketing Association (AMA) chapter at the University of Wisconsin-Whitewater was held on October 26-27. This year, over 300 students from 25 national schools participated, along with students from Germany and the Netherlands. Student participants from the AMA University of Illinois Chicago chapter included Dennis Che, Jordan Greene, Wendy Medina, Hala Altorkmani, Rawan Alobaidi, Matthew Aggari, Sandra Calvillo, Kimberly Aguilera, Lane Mason, and Nour Ahmed.
Participants arrived in Wisconsin on the evening of October 26 to network with other AMA collegiate chapters and to explore the UW-Whitewater campus. The following day began at 7:30 a.m. with a networking breakfast and a job fair, where students discussed internship and full-time job opportunities with potential employers.
The conference featured key speakers Stacy Kelsey, a product technical specialist at Pinterest, and Dillon Gustafson, a technical specialist at Microsoft. They shared insights on artificial intelligence and transformative marketing in the workplace. In addition, students attended two workshops, gaining knowledge on AI tools in digital marketing and sales. John DeGraff, Marketing Lecturer II at the UW-Whitewater and co-founder of Innovatrium, detailed the opportunities and risks of using generative AI in content creation and demonstrated how to formulate prompts correctly to achieve optimal results. Usman Sheikh, CEO of XiQ, showcased his personality-driven sales and marketing platform and provided students with access to a demo version. Those who successfully completed a practical task were awarded electronic badges to display on LinkedIn.
The conference also included competitions sponsored by partners, offering participants the chance to win real cash prizes. UIC Business student Dennis Che earned an honorable second place in the Digital Marketing competition.
"I had the privilege of representing our chapter, alongside peers from UIC, at the regional conference. This gathering was an exceptional forum teeming with a plethora of engaging activities. We were afforded the invaluable opportunity to apply our knowledge to a real-world application, presenting our perspectives to industry professionals with the aim of enhancing their operational strategies, while competing for prizes against other collegiate chapters. Additionally, the event transcended the boundaries of a mere academic exercise; it also served as a compelling impetus for action, galvanizing us to expand our chapter's influence by attracting a greater number of students and establishing partnerships with the business community."  – Dennis Che, BS in Marketing '23. 
The AMA UIC Chapter is an organization comprised of undergraduate students who seek the knowledge to become more effective marketers. Behind everything AMA-UIC undertakes is a focus on providing students with easier access to recognized thought leaders, best practices, trends, and resources. If you are interested in becoming a member of AMA-UIC, please email amauic2021@gmail.com with any questions you may have. All majors are welcome!