UIC Business Stands With Black Lives Matter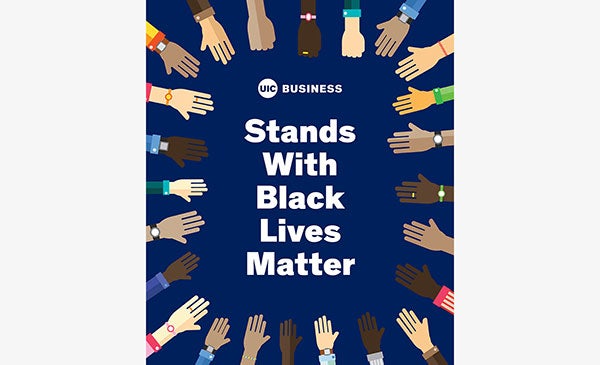 Black Lives Matter. We in UIC Business are committed to ensuring this message is heard, understood and realized.
On July 23, 2020, students, faculty and staff gathered to lead with a critical conversation that created space for reflection, dialogue and action. Featured speakers included: Dean Michael Mikhail, Vice Chancellor Rex Tolliver, Earth's Remedies Vice President & Chief Development Director Charles Pickett ('17) and Black Student Union President Ashaley Hassel.
This critical conversation was the first in what will be a series of dialogues and initiatives committed to supporting education, policies and practices that lift the voices of the marginalized while condemning racism in all of its forms. UIC Business stands for equity, inclusivity and fostering a climate in which our diverse students, faculty and staff can cultivate a sense of belonging. UIC Business stands for dismantling systems that marginalize people and communities who identify as Black, Brown, Indigenous, People of Color, LGBTQ, differently abled, and religious minorities.
This work of making these ideals a reality requires the efforts of all of us, both individually and collectively. We welcome you to join us in keeping Black Lives Matter central to the mission of UIC Business.
Modified on February 01, 2022