UIC Business Career Fairs: A Recap of the 2022-2023 Academic Year
UIC Business Career Fairs: A Recap of the 2022-2023 Academic Year Heading link
The latest series of career fairs organized by the UIC Business Career Center have come to an end, leaving UIC Business students buzzing with excitement and new career opportunities. More than 230 employers, a 70% increase from the 2021-2022 academic year, in and around Chicago offered internships, part-time and full-time positions in various fields, including Accounting, Finance, Marketing and Sales, Property Management and Real Estate, Supply Chain and Managerial Logistics, Human Resources, Business Analytics, and Information Management. These events proved to be key networking opportunities for students seeking to advance their careers.
Attending career fairs provides students with a chance to explore potential career paths, establish connections with industry professionals, and gain crucial insights into the job market. Through direct engagement with employers and exercising their professional presence, students gain valuable experience that significantly contributes to their career development.
Jahnavi Muthyala, MS Business Analytics, UIC Business Heading link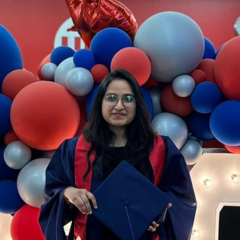 "The recent Business Analytics Career Fair was an incredible experience, providing me with the opportunity to engage with potential employers and gain valuable insights into the market dynamics and employers' expectations. I'm thrilled to have established meaningful connections with potential employers, opening doors for potential future employment prospects. As a result, I now have a clear understanding of the key players and industry trends, giving me an advantage in navigating the job market."

MS Business Analytics '23

|
UIC Business Career Fairs: A Recap of the 2022-2023 Academic Year Heading link
In addition to the industry job fairs, the UIC Business Career Center goes above and beyond for students by providing support and resources, hosting workshops, and offering job search assistance. With the option to schedule an appointment with a career coach, students can gain personalized insights into what skills they need for a successful business career and how to effectively showcase them on their resumes and in interviews. Explore more opportunities on Business Career Center page.
Modified on May 29, 2023