Membership FAQ | Beta Gamma Sigma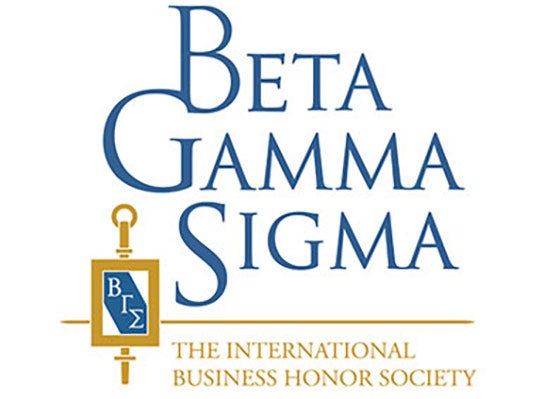 Beta Gamma Sigma at UIC is a premier business honor society that provides lifetime value. With honor, wisdom, and earnestness as its core principles, Beta Gamma Sigma (BGS) fosters integrity and encourages scholarship. This semester, the organization was recognized by BGS Global Headquarters Staff and the Board of Governors as a High Honors Chapter. Qualifying is indicative of a campus where academic excellence is highly valued and where the chapter officers work diligently to enhance Beta Gamma Sigma's stature on campus. Are you interested in joining BGS at UIC? Here, you will find answers to the most popular questions about the organization and membership.
What is Beta Gamma Sigma?
Beta Gamma Sigma is an international business honor society that recognizes the most outstanding business students at institutions accredited by AACSB International – The Association to Advance Collegiate Schools of Business.
How do I become a member of Beta Gamma Sigma?
The UIC Chapter of BGS sends out annual invitations to top-performing business students. You should expect to receive an invitation via email during the first month of the spring 2022 semester.
Why does Beta Gamma Sigma have a membership fee if membership is considered an honor?
A $75 lifetime membership fee is due when a student accepts the invitation to join BGS. This one-time fee includes access to a digital membership certificate and a member badge. The money is utilized to fund the program as well as the network and member benefits that are available to you for life. No other honor society offers the comprehensive support that Beta Gamma Sigma gives you in all stages of your career and life.
How can Beta Gamma Sigma help me in my career?
Beta Gamma Sigma membership is widely recognized as a prestigious accomplishment – allowing members to stand out within their respective career fields. Therefore, list your membership on your resume, LinkedIn profile, social media, and career sites to showcase your outstanding academic achievements and commitment to business excellence to future employers. Furthermore, programs like the Global Leadership Summit, Ethical Leadership Certification Program, and Master Class Series for alumni members can add even more value to your resume.
Additionally, Beta Gamma Sigma boasts a vast global network of over 30 formal alumni chapters and over 50 informal networking groups to date. This Alumni Network is also a great opportunity for getting this impressive resume into the right hands, as these groups focus on highlighting and promoting business opportunities that can help propel your career.
How can I get more involved in Beta Gamma Sigma?
Beta Gamma Sigma encourages collegiate members and alumni to stay involved in their chapters through leadership and programming. UIC's Chapter of BGS invites members to follow us on Instagram and join our monthly newsletter via email.
Additionally, ConnectBGS is home to our dedicated online community and is a great place to build business relationships, discuss business trends, find and share job opportunities, set up mentoring relationships, and collaborate and network with like-minded business leaders worldwide.
Q: I was inducted into Beta Gamma Sigma at a previous school. How can I transfer my membership in the Society?
A: BGS membership is transferable between schools, so you will enjoy all the rights and privileges at any school that has a chapter of BGS. You may also be recognized a second time, should you meet the eligibility requirements while pursuing an advanced degree. Regardless of when or where you are recognized, BGS membership is for life.
If you have questions about your existing membership, please reach out to our president, Karolina Ferens. You can also connect with our advisor, Joey Maman. Membership is transferred automatically and never expires, so it lasts forever!
Q: How can I showcase my Beta Gamma Sigma membership to my friends or future job employers?
A: Congratulations! You can now tell your friends and family that you are a part of the world's most prestigious business honor society. Your membership is proof that you are the best of the best, and that Beta Gamma Sigma sees the potential in you to become a future business leader.
Furthermore, you can add the official BGS key to your resume and talk to your future employers about how your Beta Gamma Sigma membership is proof of your aptitude, perseverance, and talent – you can even include it in your cover letter.
Modified on October 16, 2021