Kim Moon, Senior Lecturer of Marketing, Was Awarded the Outstanding Student Organization Advisor Award
Kim Moon, Senior Lecturer of Marketing, was awarded the Outstanding Student Organization Advisor Award Heading link
We are thrilled to announce that Kim Moon, Senior Lecturer of Marketing, has been recognized for her exceptional work as the advisor of the student organization, Black Students in Business (BSIB). Her dedication to the success of the organization has been exemplary. Kim Moon received her award during the 51st Annual Chancellor's Student Services and Leadership Awards (CSSLA) ceremony.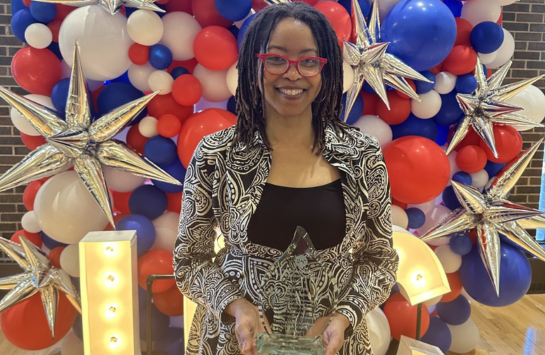 "It is an honor to be recognized as the Chancellor's 2023 Outstanding Student Organization Advisor. Being an advisor to BSIB is a tremendous privilege, and it comes with many celebrations and challenges. One of the delights is leading an amazing Executive Board. This year, my Executive Board rose to every occasion to solve problems, seek opportunities, and execute our plans. I would be remiss if I didn't acknowledge their many contributions. Some of which are below:
Secured our first sponsorship from Salesforce in the amount of $3,000
Hosted 22 professional and social events on campus
Partnered with the African-American Cultural Center to host a Luncheon for Prosser High School Students and Staff
I am excited to share this award with both Professor DeBerry-Spence and the Black Students in Business Executive Board. Their commitment to the organization has been nothing short of exemplary. Our current E-Board consists of:
Autumn Swanson, President
Tateonna Terrell, Vice-President
Kenneth Jones, Director of Corporate Relations
Azizat Balongun, Director of Student & Alumni Relations
Laetitia Siegfried, Director of Social Media & Marketing
I would also like to thank Interim Dean Sandy Wayne, Joey Maman, Joy Vergara, and Vince Pierce for their support.
As a new organization, we look forward to exploring fertile ground with our incoming Executive Board and providing support for more of our Black business students."
Kim Moon | Senior Lecturer of Marketing, Advisor of Black Students in Business
Kim Moon, Senior Lecturer of Marketing, was awarded the Outstanding Student Organization Advisor Award Heading link
Black Students in Business supports the diverse needs of Black students who are pursuing a degree at UIC and a career in business. The organization was founded by Professor Benét DeBerry-Spence, who saw a need for dedicated resources and support for Black students studying business. Professor DeBerry-Spence and her family also established the Spence Undergraduate Fellows Scholarships. This fund was created to assist students and increase diversity within UIC Business.
Modified on May 17, 2023