Inspiring Grads: Christian Zavala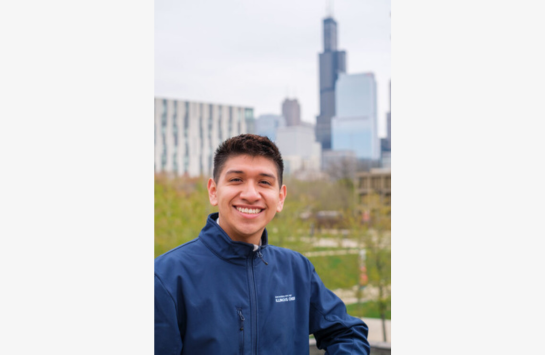 UIC will celebrate its 2023 graduates during spring Commencement ceremonies May 3-6.
Learn about the journey that UIC Business student Christian Zavala took to graduate:
Christian Zavala is the first member of his immediate and extended family to attend college, so he says navigating college and earning a degree is probably going to be the biggest accomplishment in his family to date.
"Now I'm about to reach that end goal to be where I want to be," he said. "So, finishing this accomplishment — and finishing at an institution that promotes diversity, has a very large Latino community on campus as a Hispanic-Serving Institution and has a bunch of different resources for me — is such a monumental thing."
Four years ago, Zavala came to UIC from Fenton High School in Bensenville, Illinois, knowing that he wanted to be heavily engaged in campus activities.
"Being first-generation my parents didn't necessarily understand the majors that I was going for and I think finding those organizations that you're able to sort of connect with different people that are doing similar things you enjoy was something that I needed on campus," said Zavala, who will graduate May 5 from the College of Business Administration with bachelor's degrees in marketing and finance.
In search of a group where he could develop socially and professionally, he found the Association of Latino Professionals For America at UIC. He has worked his way up over the years to become the organization's president while also benefiting from the personal and professional connections and resources offered.
He had the opportunity to travel to symposiums and conferences. Combined with his classroom achievements, it served as a path to earning impactful internships with Adtalem Global Education and Deloitte, as well as several offers for full-time jobs after graduation.
"Through hard work and a lot of support from different people, specifically from UIC with all its resources, I was able to see that version of myself that I wanted to become, and I've been slowly becoming that person," he said. "It's definitely made me a better person, and I'm excited to sort of navigate the next chapter of my life."
With academic and professional interests focused on digital and data-driven marketing, following Commencement, he will join KPMG as an advisory associate in customer engagement.
Zavala is a President's Award Program scholarship recipient, a member of the Honors College and part of the UIC Business Scholar program, which is a selective four-year leadership development program for undergraduates.
At UIC, he is also the marketing chair of the Collegiate Association of Business Scholars and a member of LARES Leaders, a leadership, professional development and civic engagement program for executive board members of UIC Latino student organizations. He has volunteered with the Chicago Marathon, the Anti-Cruelty Society and the Chicago Food Depository.
Zavala encourages current and incoming students to take advantage of the different resources and organizations available on campus.
"Just finding the people that you feel like you can be supported by is going to help make that college experience go by super quick and also in a way that is enjoyable for you all while you're attending school," he said.
Modified on May 04, 2023