Finance & Investment Group | Membership, Events, and More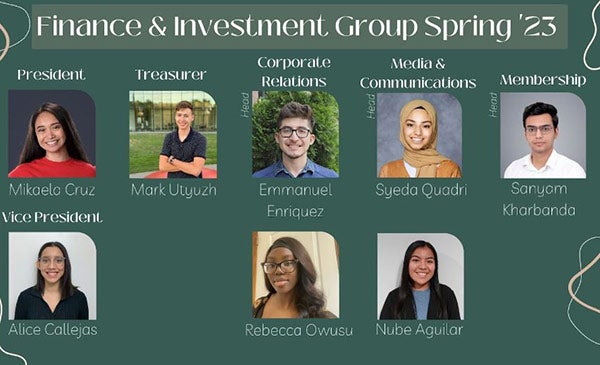 The Finance & Investment Group (FIG) is a UIC Business student organization that is dedicated to developing knowledge and networks for the future. We host speaker events where we invite business professionals from different fields, such as personal, public, private and corporate finance to speak about their experiences. Speakers also work in a wide variety of industries that include investment banking, asset management, venture capital, private equity, and real estate. We also offer workshops and networking events for our members to deepen their knowledge on an interactive, personal level.
Continue reading to learn more about our organization and to register for upcoming events!
How do I become a member of FIG?
Prospective members can fill out this form. We will add you to our GroupMe where we send information about our upcoming events and members can ask the executive board any questions. We also have a newsletter, which you can subscribe to here. Links to all of our social media pages and upcoming events are available on our Linktree. All majors are welcome.
How will FIG help me in my career?
When we host speaker events, members will learn more about a business professional's daily life at work, plus the inside scoop on the journey they took to get there. Members will network with established business professionals and recruiters as well. This will build your network and develop connections that will help advance your career.
We also offer mock interview sessions, often hosted by recruiters who are actively searching for interns and full-time employees. These sessions allow you to work on your interviewing skills and get your foot in the door during the application process. Recruiters will be able to put a face to the names on their applications.
To explore more of what FIG has to offer, register for an upcoming event!
Hosted by Professor John Miller, Director of the CME Market Training Lab
Tuesday, February 21, 2023, 5 – 6 p.m.
Douglass Hall 170 CME Lab
The Bloomberg Terminal is a computer software system for financial services professionals that displays real-time financial markets data.
"Success 101" hosted in collaboration with ALPFA, UWN, and The Accounting Club
This event will feature speakers from Bank of America, Northern Trust, and JPMorgan Chase & Co. Attend to discover new career opportunities, learn more about your fields of interest, and expand your professional network!
Tuesday, February 28, 2023, 5 – 6:30 p.m.
SCE 329 Cardinal Room
Modified on February 20, 2023