Earth's Remedies Brings Holiday Bash to the Garfield Park Conservatory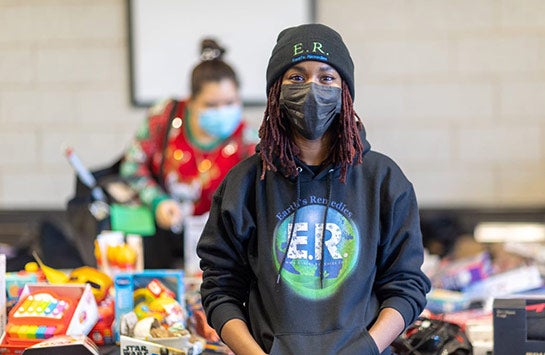 Recalling a vivid childhood memory, Mercedes Pickett remembers sitting alongside her brother, Charles Pickett, in their father's car as he drove past the Garfield Park Conservatory. It was always a sign that they were close to home. Mercedes found herself enthralled by the structure's illumination. Years later, the Pickett siblings experienced the Conservatory in a different way: as community leaders uplifting Chicago's West Side residents.
Mercedes Pickett, BA '14, MS '17, is a DePaul University alumna who founded Earth's Remedies on Earth Day 2016. In 2020, UIC Business alumnus Charles Pickett, BS '17, joined the team. Earth's Remedies is a nonprofit organization that connects marginalized communities to free resources that pertain to financial literacy, career readiness, wellness, and more.
Earth's Remedies' annual Holiday for the West Side event was held at the Garfield Park Conservatory. In partnership with the West Side Collective, 212 mothers, fathers, and their children were in attendance.
Mercedes and Charles spoke with UIC Business about the impact of this community event.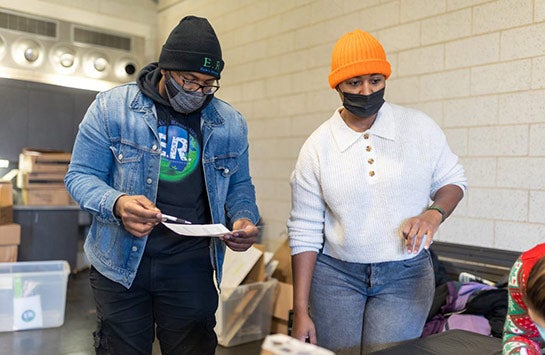 Holiday for the West Side is a well-known community event. What resources were distributed to Chicago's residents this year?
Mercedes Pickett: We offered warm meals by FH Jerk and clean water filters from Clearly Filtered. As you may know, there is lead in the Chicago water. In Illinois, 65% of African American and Latino residents live in contaminated areas.
Travel, health, and wellness bags were donated by Dagne Dover. Education and learning toys were available. We had winter accessories such as scarves, gloves, earmuffs, and coats. Art prints from local, West Side artists, and snacks from Everybody Eats and Krispy Kreme. Groceries and turkeys were distributed as well.
Share with us some of the fun and interactive activities that took place.
MP: Families toured the Conservatory and received an Earth's Remedies wellness bag with information about our partners and how to stay connected with us. The youth selected their favorite art print from a local, West Side artist. Families were able to choose two to three gifts. Mothers and fathers received bags filled with donations.
We offered a photo booth and had a photographer waiting at the Mr. And Mrs. Claus station.
Afterward, we had a lot of volunteers, and safe passage assistance offered by the Chicago Police Department, that helped families transport the gifts and resources to their cars.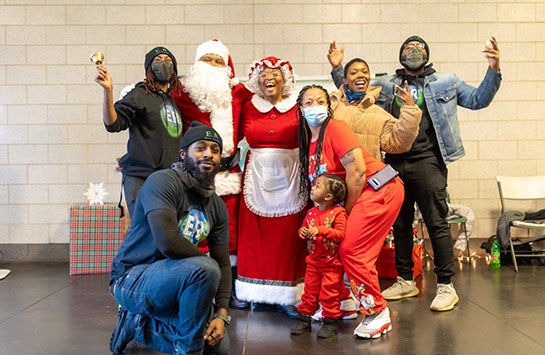 Earth's Remedies collaborated with the West Side Collective to host Holiday for the West Side. Can you tell us more about the organization and why it was selected for this partnership?
MP: The West Side Collective is a group of like-minded individuals, organizers, and small businesses. It is a platform for Black leaders to allocate community knowledge.
Charles Pickett: Partners for the event included: the Garfield Park Conservatory, the Garfield Park Community Council, West Humboldt Park, The Element, Austin Coming Together, Root2Fruit Youth Foundation, New Life Community Church, Windy City Strength and Conditioning, Breakthrough, FH Jerk, Everybody Eats, Top Secret Toys, the Elephant Room Gallery, Rush Hospital, and the Garfield Park Rite to Wellness Collaborative.
Earth's Remedies was founded with a mission to empower marginalized communities. Being raised in Humboldt Park/Garfield Park and staying connected to those areas, what do you want others to know about Chicago's West Side neighborhoods?
CP: It's more than the image. It's more than what you hear on the news. It's more than the disinvestments and the disenfranchisement and the jokes you hear on social media.
There's great history, people, food, culture, and resources here that benefit the community. Collectively, what we need to do is highlight what our community has and continue to push that knowledge and history of the West Side. Garfield Park was, and it still is, the mecca of Black Chicago. But, many don't understand the history behind it. There are historic churches in North Lawndale that Rev. Dr. Martin Luther King Jr. attended. I believe that if the story was told differently, there would be more respect.
There are a lot of fun activities to experience on the West Side. A roller rink recently opened on Madison and Pulaski. Everyone loves to go to during the summertime, and I plan on going with my friends to show them what the West Side is truly about.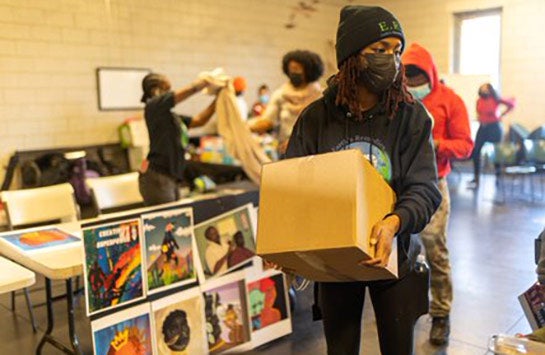 MP: The West Side of Chicago is a gold mine, and I would love to encourage Black people, and people of color, to continue to invest on the West Side of Chicago. To work with local organizations such as Neighborhood Housing Services of Chicago (NHS) and help others learn how to build credit, start investing, and understand the mortgage and home buying processes.
Connecting with resource centers and like-minded individuals will allow us to have more opportunities to present to the youth. When it comes to showcasing what the West Side of Chicago is about, I love highlighting how there are engineers, lawyers, doctors, and technicians within the hood.
I came from Orr Academy, and I was cherry picked. I received a full-ride scholarship, and attended a school that I would not have been able to afford without that scholarship. But, I want to let the community know that there are way more than a chosen few. If we continue to pour resources into these low-income communities, these disenfranchised communities, we can become what our community needs.
We are actively fighting against systemic oppression. The pandemic highlighted a strategic starvation. Now, community members are creating a call to action by creating their own grocery stores, green lines, and connecting with Black farmers in the South. This way, there is no middleman to take resources away from us. I want others to see that the Black community on the West Side of Chicago is growing. It takes like-minded individuals to become what the people need. That is how we influence.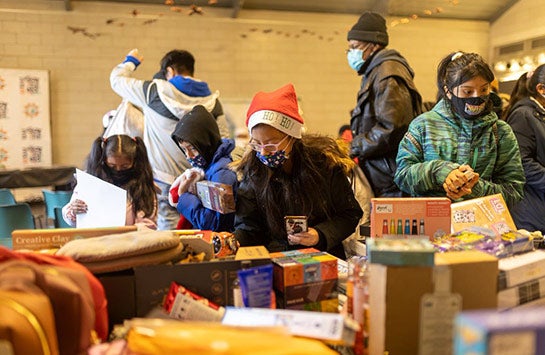 How does Earth's Remedies plan to give back in 2022?
MP: One of our first events is with UIC, offering free consulting resources to small, Black-owned businesses. Our audience will be connected to the Wintrust Bank platform, as well as grant and loan opportunities that they may not be familiar with.
We are working with the park district to establish pre-workout programs at the Garfield Fieldhouse or in the surrounding area. We are connecting with the Al Raby School for Community and Environment to bring resources directly to the high school scholars. We are building our health and wellness platform with cardio dance workshops.
Our housing program with NHS will educate families on financial literacy. There are also free programs to help them understand the home buying process.
We are building a stronger violence prevention and conflict de-escalation platform as well.
For more about Earth's Remedies' resources and ways to support, please visit their website. To help connect Chicago's West Side residents to healthy, fresh produce, register for Combating a Strategic Starvation. If you would like to make a donation to Earth's Remedies, please visit the organization's GoFundMe page.
Modified on January 18, 2022