Associate Professor Melissa Martin Awarded the Michael B. Mikhail Professorship
Associate Professor Melissa Martin Awarded the Michael B. Mikhail Professorship Heading link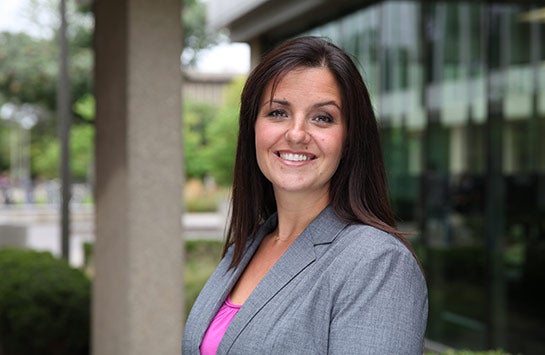 UIC Business is proud to announce that Melissa Martin, Associate Professor of Accounting, has been unanimously selected to be the first recipient of the Michael B. Mikhail Professorship in recognition of her outstanding accomplishments and contributions to the college and university.
Since joining UIC in 2015, Melissa has built an impressive record in research, teaching, and service. She has published nine articles in top-ranked journals in accounting and management. In the last five years, she has reviewed over 75 research papers for 11 different accounting and business journals. Melissa received the outstanding reviewer award from the Journal of Management Accounting Research in 2019 and in 2022 from The Accounting Review, considered to be one of the top three journals in the accounting field. She also serves on their editorial boards and as associate editor of the European Accounting Review.
Melissa's teaching record is equally impressive. Over the last five years, she has received an average of 4.7/5.0 for excellence of teaching in student course evaluations including 4.9/5.0 for the most recent year. In 2017, she received a UIC Excellence in Teaching Award. She also served as the UIC Liaison to the KPMG Future Diversity Leaders (FDL) Program described as, "a structured leadership development and scholarship program for 60 high-achieving minority freshman and sophomore college students in business curriculums."
Melissa has also made outstanding contributions in service since joining UIC. She has served as a faculty instructor for the Future Leaders in Business program and as a mentor for the UIC Business Scholars program. In addition, she is a faculty fellow in the Honors College. At the campus level, she served on the Chancellor's Athletic Advisory Committee and as the College of Business Administration (CBA) representative to the UIC Center for the Integration of Research, Teaching and Learning.
Modified on May 24, 2022