Alumna Cyndi Bray, MBA '92, Lands Investment Deal on ABC's Shark Tank
Alumna Cyndi Bray, MBA '92, Lands Investment Deal on ABC's Shark Tank Heading link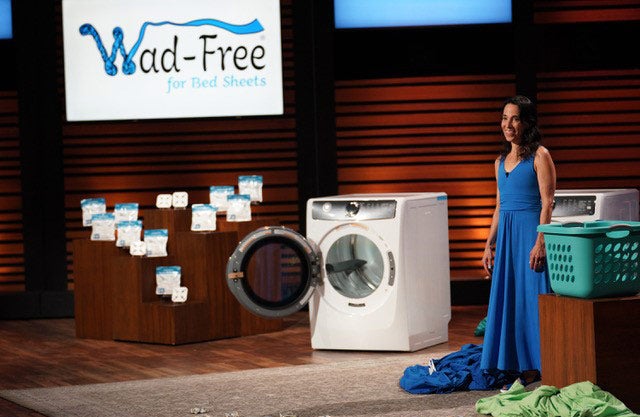 UIC Business alumna, Cyndi Bray, MBA '92, is one of the latest entrepreneurs to land an investment deal on ABC's Shark Tank. Cyndi's pitch for her business, Wad-Free for Bed Sheets, made an impression on the Sharks and left viewers intrigued. Made 100% in the U.S., Wad-Free for Bed Sheets is a device that prevents sheets from tangling, twisting, and balling-up in the washer and dryer. Walking away with a $200,000 investment from Kevin O'Leary, a.k.a. Mr. Wonderful, wasn't her only accomplishment. "I wanted to show [the Sharks] the impact that the show has had. They really inspired me. Watching the show for many years gave me courage." Cyndi shares more about her experience on the multi-Emmy Award-winning show.
When did you know that consumers needed a product to transform the way they do laundry?
When I purchased a new, high-capacity, high-efficiency washer and dryer set, the problem of taking out the sheets to untangle them was so much worse. I was just fed up. It was maddening how much time and energy I was wasting. And there was nothing on the market to solve this problem. I thought, "How do we put people on the moon? How do we live stream from the International Space Station? How do we Zoom, but we can't solve the bed sheet problem?"
You launched Wad-Free for Bed Sheets in June 2020. What challenges did you face by starting this business during the COVID-19 pandemic?
My entire launch was delayed by several months. Everything was late. My molds were late. The factory was only making PPE equipment. One of the plastics that I use is custom compounded. The factory that it's made in was shut down several times due to COVID cases. So, you know, it was the gift that kept on giving. With labor shortages, all my costs have skyrocketed since I launched. Labor, materials, manufacturing, everything.
How did you adapt to those inconveniences?
There was a lot of waiting. At one point, I ran out of stock because the custom plastic that was supposed to take two or three weeks ended up taking eight or nine. What I learned from that was to stockpile my raw materials.
Before appearing on the show, you spent years watching Shark Tank. How did that help with strategizing your pitch?
I felt like I already knew the five of them. They've been in my living room for so many years. So, I was very confident in the tank. As far as the pitch, I wanted to demonstrate the problem in an entertaining way. You've got one shot to deliver your pitch. There are no do overs. So, I practiced and practiced and practiced until it was secondhand. Surprisingly, that was my first pitch, and I wasn't nervous at all. I've never pitched before.
Viewers might have assumed that Lori Griener's offer would be accepted. What made Kevin O'Leary's investment the best choice?
The equity. Lori started at 25% but brought it down to 20%. That is huge. Keep in mind that this is a new product. I didn't reinvent the wheel. I created a wheel. Virtually everybody has this problem, and I invented the solution. By that, I mean, I didn't hire somebody. I didn't hire an engineer. I did not hire somebody to make the designs. I taught myself how to do my own CAD drawings. I learned about injection molding and had prototypes made. I tested them on friends, family, and strangers. I had a custom plastic compounded when there was nothing on the market that met my needs. I did everything. My own website, logo, packaging, and video. I did it all by myself in 14 months from my concept to my pandemic launch.
Kevin O'Leary, who is also a fantastic and well-respected businessperson, offered an investment that is better in the long term. 5% is a good play. And while there's that royalty, it's not in perpetuity.
You negotiated with the Sharks quite a bit. Please explain to readers the importance of asking for what you want.
The Sharks negotiated amongst themselves. Kevin O'Leary came down on his equity to try and fight it out with Lori. The only thing I did was ask Lori if she would come down on her offer, but it wasn't nearly enough. If I had to do it over, I would have negotiated more.
At the time of the episode's taping, Wad Free for Bed Sheets produced $513,000 in sales. What are your goals for the company in 2022?
I have another patented product in the line called Wad-Free for Blankets and Duvet Covers. I hope to launch that early in 2022. There are some other products in the line, and I have additional laundry solutions that are in the works.
Any tips for UIC Business students and alumni who watched your Shark Tank episode and were inspired to pursue their entrepreneurial dreams?
The thing for me is that I've never invented a product before. I've never manufactured anything. But I taught myself everything. You have to be really passionate about what you're doing because it's a lot of work. But there's nothing you can't do in this day and age.
Compared to when I was in the MBA program, resources were not as accessible as they are today. YouTube, Google, and Shark Tank books. That's how I taught myself how to do all of this. Those were my mentors. Filing a provisional patent, I've never done that before. How do you do it? Google it. All the resources are right there. You don't have to hire a firm to get started, but you need work hard. Be resourceful and ready to pivot on a dime.
To watch Cyndi's pitch on Shark Tank, stream Season 13 Episode 5 on ABC or Hulu.
Modified on November 23, 2021