Virtual Graduation Ceremony Countdown with Undergraduate and Graduate Student Speakers | Ehlimana Gutosic and Katie O'Malley
Ehlimana Gutosic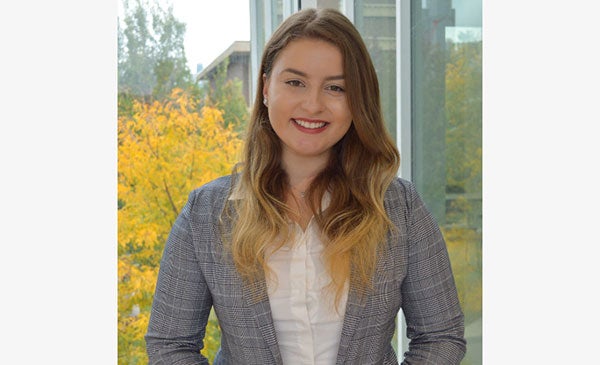 Ehlimana Gutosic is an Accounting and Information Decision Sciences major, Business Scholar, member of the Honors college and also the President of Collegiate Association of Business Scholars (CABS). She has also served the Undergraduate Women's Network as the Vice Chair of Communications and Vice Chair of Treasury. Ehlimana has successfully interned in multiple organizations starting with PwC and Michael Silver. We caught up with Ehlimana as her time at UIC Business comes to an end but the memories will live on forever.
Why did you choose to attend UIC and major in Accounting and Information Decision Sciences?
I chose to attend UIC for several reasons. I knew that I wanted to study Business and what better city to do that in than Chicago! The Business Scholars program was something that definitely caught my eye as it allowed me to be a part of a cohort of like-minded students that are also motivated and dedicated for their studies. The Business Scholars program also allowed me to jump-start my networking skills with professionals from day one and really helped me expand my professional network as well.
From the very beginning of college, I knew that I wanted to study Accounting – "the language of business". I've always loved numbers and the thought of having the skills and knowledge that can be applied to a number of industries fascinates me. After talking with my advisors and a few professionals in the Accounting profession, I realized that I needed to decide on how I was going to obtain at least 150 college credit hours in just four years in order to sit for the CPA exam upon graduation. Technology is rapidly changing and is the future of the business world which is why I felt like majoring in Information and Decision Sciences would be a great match with my Accounting major, so towards the end of my sophomore year, I decided to double major in Information and Decision Sciences. I also wanted to learn more about different databases and my IDS classes have definitely allowed me to do so.
Tell us about one or two of your favorite courses and why?
Two of my favorite courses are Audit taught by Professor Scott Judd and the Ethical Environment of Business taught by Professor George Scully. Both courses included such engaging conversations with the entire class about current events and how imperative it is to be ethical at all times. Not only did these classes allow me to share my thoughts, but I was also able to learn from my peers who may have had different perspectives from me. I also really enjoyed BA 100 and BA 200, both Professional Development courses that helped me hone my professional skills and learn how to communicate effectively.
What's next for your career?
Upon graduation, I will be studying for the CPA exam and will be starting my career in Public Accounting at PricewaterhouseCoopers. I will specifically be working in their Risk Assurance Practice out of the Chicago office. I also plan on giving back to UIC. I've been a part of the Business Professional Mentoring program for the past four years as a mentee and I am really excited to eventually come back as a mentor for UIC students. Simply because "A lot of people have gone further than they thought they could because someone else thought they could", and I want to be that someone else for college students.
What will you miss most about campus?
I'll miss the people the most. Throughout my time at UIC, I've had the honor of being a Business Ambassador, the President of the Collegiate Association of Business Scholars and serving on the e-board of the Undergraduate Women's Network as well. During my time with these organizations, I was really able to grow as a person, meet and work with amazing people, and help others as well. I'll also miss the delicious smoothies from the Rec Center!
Can we have a sneak peek about what will inspire your speech?
My commencement speech is inspired by those who have been my side throughout my college career and about the life-long journey of learning. We may have earned our Bachelors Degrees, but it doesn't stop here! The learning must continue beyond UIC's campus.
What is that one experience at UIC Business that will stay with you forever.
It's really hard to just choose one experience because I've had so many amazing experiences while at UIC! Truly the best four years of my life. However, one experience that I'll always cherish is when I participated in the Target Case study competition my sophomore year. My team and I won second place, but the experience of working with a very real-life problem and presenting our solution and own thoughts in front of Target judges was such an exciting experience. Whenever I visit Target (which is pretty often), I always think of this memorable experience that I had thanks to UIC.
Katie O'Malley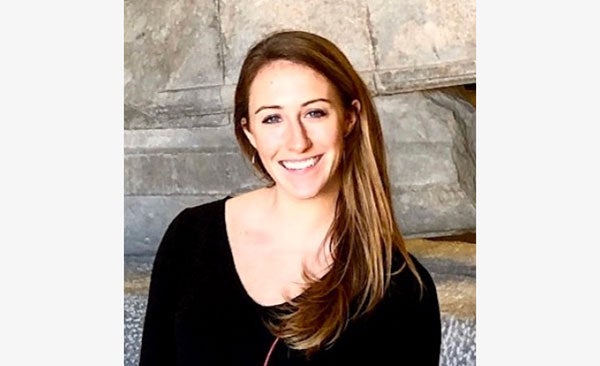 Katie O'Malley is a dual-degree graduate (MBA/MPH) student at UIC Business. She is also an experienced wellness professional with a work history in nonprofit organizations across the city. The MBA program at UIC has helped her delve deeper into the world of social entrepreneurship and put her extensive research experience to use. Her positive experience at UIC inspired her student peers to pursue their dreams. She will deliver remarks on behalf of the master's degree graduates at this year's UIC Business virtual graduation ceremony. We caught up with Katie as her time at UIC Business comes to an end.
Why did you choose to attend UIC Business for your MBA program? 
I chose to attend UIC for the dual degree MBA/MPH program because of the university's commitment to community. Through my MPH, I have contributed to research, intervention design and implementation with many Chicago communities. Through my MBA, I have channeled this knowledge and experience into Social Entrepreneurship courses. UIC has a unique position within Chicago to bring together stakeholders across industries to create equitable partnerships and collaborations to improve health outcomes for individuals and economic outcomes for communities.
Tell us about one or two of your favorite courses and why?
I have loved my courses in Entrepreneurship, specifically the course titled "Social Entrepreneurship", which was a collaboration between UIC and the Social Enterprise Alliance of Chicago. The class was a mix of undergraduate and graduate business students, as well as students from Extended Campus who were working in the public and private sector, at varying levels of leadership. This class was the epitome collaboration and interdisciplinary study. Lectures each week were given by members of the Chicago SEA chapter, and the guidance from leaders in the field on our final projects (social enterprise pitches and business plans) was invaluable.
What's next for your career after UIC?
I've accepted a job offer to work at IBM in New York City. I'll be working in their Global Business Services unit as a consultant in Digital Strategy and iX. Because of my MPH experience, I'll work specifically with clients in the healthcare, life sciences and public sector.
(I was hired as an intern-conversion. In the summer of 2018, I interned for IBM sales in Chicago and in summer of 2019, I interned doing consulting in NYC. UIC Business Career Services helped me to secure the internship in 2018!)
What will you miss the most about campus?
I'll miss the Argo Tea in Student Center East! It has gotten me through many long days with delicious teas 🙂
Can we have a sneak peek about what will inspire your speech?
My speech is inspired by a lesson that my dad taught me while growing up. I think that this lesson is applicable to our graduating class, especially in light of the current COVID-19 pandemic.
Lastly, what is that one experience at UIC Business that will stay with you forever.
One experience that will stay with me forever comes from one of my courses in Social Entrepreneurship. I had been working with a group on a semester-long project, consulting with an existing Chicago non-profit organization on how to launch a social enterprise. After presenting our recommendations to the founders at the end of the semester, we stayed in touch, and our group also presented to the Executive Board weeks later. Several months later, I was asked, along with one other group member, to present at the organization's first-ever fundraising black-tie gala. I was honored to represent the organization in front of potential donors and grateful to UIC for facilitating my relationship with this community. The founders and I are still in-touch to this day.
Thank you Ehlimana and Katie for sharing your journey with us! Congratulations to the both of you and the Class of 2020 for showing us what it means to stay strong and resilient even in the toughest of times. Ehlimana and Katie's speech can be heard at 9 a.m. on Saturday, May 16 during the UIC virtual graduation ceremony. We wish Ehlimana and Katie all the very best on their new journey post UIC.
Modified on October 06, 2021