Reflecting on Pride Month with GSC Associate Director Moisés Villada
Reflecting on Pride Month with GSC Associate Director Moisés Villada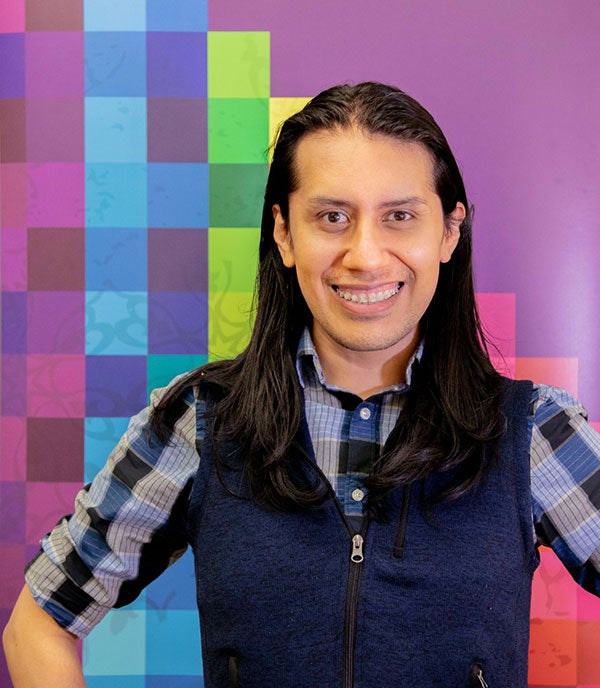 Pride Month 2021 has been a time to rejoice and reflect. Celebrating what it means to live and love freely while acknowledging the need for full equality. Moisés Villada is the Associate Director of UIC's Gender and Sexuality Center (GSC) and an incoming student within the UIC Business Master of Science in Marketing program. He spoke about his interest in the MSM program, advocating for LGBTQIA+ communities, and the potential for his work to create widespread change.
Congratulations on your acceptance into the MSM program. What are you most looking forward to in your upcoming courses? 
I'm looking forward to gaining new insight. Especially since there are so many new platforms for engagement and communication. I'm ready to engage in robust dialogue, meet new people, and experience being a student again. It will be interesting to go back to school as we still figure out how to navigate the COVID pandemic.
Tell us how you plan to incorporate the program's concepts and specialized training within your career.  
I'm excited to learn, investigate, and translate business models and marketing concepts into diversity work. Reimagining current ideas and expressing them in ways that celebrate people's multiple, intersecting identities is an interest of mine as well. After collaborating with various organizations throughout the years, I've realized the importance of using tools that tell your organization's story effectively, acknowledge constituents' needs, and help the organization lead in new, innovative ways.
You are a very accomplished professional, serving as the associate director of UIC's Gender and Sexuality Center. Tell us your story. How did you get started working at the GSC?  
My involvement with the GSC began when I was an undergraduate student leader at Roosevelt University. As president of RU Proud, the LGBTQIA+ student organization, I organized programming and collaborations with various groups on campus and in Chicago. UIC's GSC led an intercollegiate pride fest where I represented Roosevelt University.
That collaboration helped me learn about the Center's work and engage with students and staff. Years later, the GSC needed additional staff support and was looking for individuals who had experience and passion for LGBTQIA+ issues. I was asked to get involved as an intern, I accepted, and my career at UIC took off.
Describe the GSC's evolution over the years and why its resources are essential to LGBTQIA+ communities at UIC, especially during Pride Month. 
The GSC has evolved in many ways: from its former title as the Office of Gay, Lesbian, and Bisexual Concerns to Gender and Sexuality Center; to being housed in a small room on the fourth floor of BSB to having community spaces and administrative offices on the first floor of BSB; through the hiring of more diverse staff; and through the constant examination of how we do our work to challenge systems of oppression.
The GSC continues to advocate, support, educate, and connect LGBTQIA+ students, faculty, and staff. Our center provides an entry point for folx to be in community, to embrace their identity development journeys, to guide students through academia, and to provide engaged learning opportunities within and beyond the classroom. We are here for UIC's Queer and Trans folx to be themselves and celebrate who they are, recognizing that those identities are beautiful and valuable.
To many people, Pride Month is a celebration and a reminder. Locally and/or worldwide, what achievements brought you the most joy this month? What areas still need major work? 
I really appreciate the many ways that Queer and Trans, Black, Indigenous, and people of color continue to challenge mainstream narratives of what it means to be part of the LGBTQIA+ communities. We're not a monolith. There's diversity within diversity. How we connect Queer & Trans issues to larger issues of oppression is so important because they are interrelated and impact everyone.
The work for equity and liberation continues. There is still violence against Trans people, specifically Trans women of color. There is still Queer youth homelessness, high suicide rates, discriminatory health practices, poverty, racism, and the list can go on. We can't live in a prosperous society without paying attention to these issues and what role we play in them. These issues have a long-term impact on the individual and communities overall.
How do you envision your work with LGBTQIA+ communities influencing some of the changes that need to happen? 
I am confident that my work with colleagues and community partners is creating space for systemic accountability, personal reflection, historical documentation, and sustainable actions that lead to the dismantlement of discriminatory ideology and practices that keep LGBTQIA+ people and other marginalized groups oppressed. My hope is that UIC LGBTQIA+ community members feel acknowledged, guided, loved, and empowered to make change in the classroom, on campus, and beyond.
You can connect with the GSC via their website and by following on Facebook, Instagram, and Twitter.
Modified on November 23, 2021