Partners in Business, Friends for Life
The friendship between Maria Prado '86 and Hilda Renteria '86 began at the UIC library in the mid-80s.
They were both undergraduate students at the College of Business Administration majoring in accounting, and Prado asked to join Renteria's study group. That moment would determine so much of their professional and personal lives for decades to come.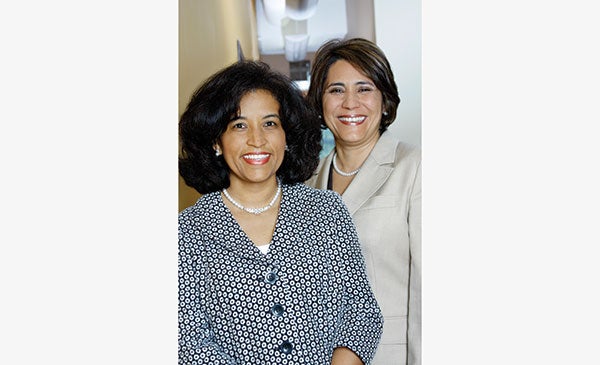 Prado and Renteria's passion for accounting began for both in high school after taking a bookkeeping class. They enrolled at UIC to study business and begin pursuing careers as certified public accountants. There were challenges—like juggling work and study and navigating a complex university setting—but they found strength in friendship and their study group. In 1986, Prado and Renteria graduated from UIC Business with Bachelor of Science in Accounting degrees and began working at First National Bank of Chicago (now JP Morgan).
After a couple years of working at the bank, Prado asked Renteria to join her in starting their own public accounting firm. As Renteria describes, "I was inspired by Maria to join her in creating a firm owned by Latinas." Prado & Renteria started with a single contract for the Chicago Park District, and once that project was complete, the partners realized they needed a marketing plan to bring in additional business. Their planning, passion and commitment to clients and community paid off. Thirty years later, Prado & Renteria is still in business and is the largest Latina-owned CPA firm in Illinois.
Despite the demands of running their own business, Prado and Renteria find time to give back to the UIC Business community. As Prado shares, "Just as we have been the recipients of others who give back, it is now our opportunity to give back." In Renteria's words, "UIC is part of the foundation that propelled me into the world of business, accounting and having a successful CPA firm." The UIC community is stronger for their commitment and congratulates Prado and Renteria on the 30th anniversary of the firm.
Modified on August 06, 2021