Meet The 2020 CME Group Foundation Scholarship Winners
Four UIC Business Scholars have been announced among the winners of the highly competitive and prestigious CME Group Foundation Scholars Program scholarship that provides support for the education of underrepresented minorities in finance, information technology, computer science, and applied mathematics. Each recipient will receive a renewable scholarship worth up to $20,000 per year. The scholars competed for the award with students from 10 CME partner schools that included UIUC, DePaul University, IIT, Loyola University (Chicago), and the Stevens Institute of Technology in New Jersey with majors in finance, information technology, computer science, data science, cyber security, math, statistics, and financial engineering.
Hugo Enrique Lopez, '22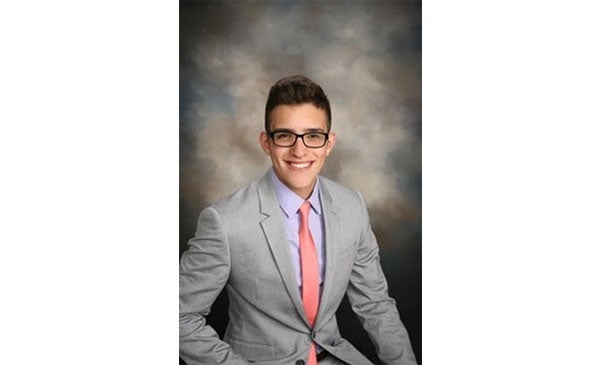 Major in Finance, Minor in Entrepreneurship
Business Scholar, Honors College
3.95 GPA
Hugo is a junior majoring in finance with a minor in entrepreneurship. He is a Business Scholar and a member of the Honors College. Hugo started working in his family's business, "Gorditas Salazar," at age 11 and developed an entrepreneurial spirit. Growing up, he witnessed the success and failure of more than one family business and came to appreciate the importance of good financial management. In high school, a macroeconomics class introduced Hugo to the world of investing. He learned about risk and developed his analytical abilities as he made investment decisions based on mathematics. As Hugo's interest grew, he decided that a career focused on financial management and planning would be an excellent choice.
At UIC, Hugo has been actively involved in business student organizations and activities. He is Vice-President of the Collegiate Association of Business Scholars (CABS), a member of the Association of Latino Professionals for America (ALPFA) and serves as a business ambassador for the college. When thanking the Chicago Mercantile Exchange (CME) Group Foundation for this amazing award, Hugo exclaimed, "I never imagined that I could win a scholarship of this size and prestige. I will be the best representative I can be for the CME Group Foundation Scholars Program!"
Noelle Robinson, '23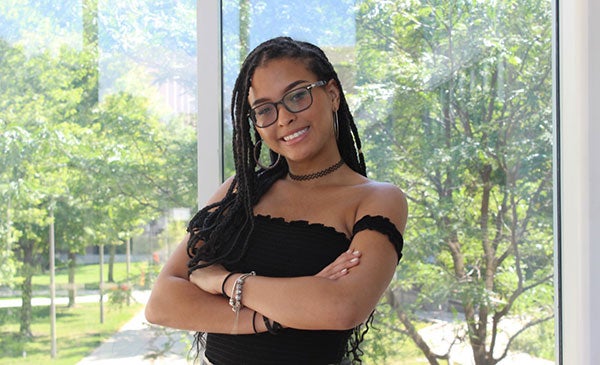 Finance and IDS Major
Business Scholar, Honors College
4.0 GPA
Noelle Robinson is a sophomore with a double major in finance and IDS. She is a UIC Business Scholar and a member of the Honors College.
From a young age, Noelle had a penchant for numbers with dollar signs. As a child, when her dad took her to the arcade to play games, she would play only those that promised a high rate of return. In high school, she discovered Dave Ramsey's financial literacy podcasts, opened a savings account, and quickly saved her first one thousand dollars by undertaking entrepreneurial tasks such as tutoring, selling old clothes, and taking on art commissions.  She founded a teen financial literacy group on Instagram and posted guides on topics of personal finance while offering one-on-one assistance to those with money troubles. The group enjoyed great success and amassed over 5,000 followers.
Noelle's life changed dramatically when her grandfather became very ill during her freshman year of high school, and her grandmother needed help taking care of him. She decided to leave Kenwood Academy in Chicago at the beginning of her sophomore year and move to her grandparents' home in the suburbs to assist. It was a big decision to leave her family and friends behind, but one that she emphatically states that she would repeat again without thinking twice.
She enrolled in an accredited online high school program offered by Mizzou Academy and completed her last three years of high school online. This unique experience taught her self-reliance, discipline, and great time-management skills – perfect preparation for being able to excel during her first year in college, and especially during the pandemic.
Noelle describes winning the Chicago Mercantile Exchange (CME) Group Foundation scholarship as the "highest honor and biggest blessing" that she has ever received. With the benefit of the scholarship, she will be able to devote all of her time to her studies and preparing for a future career in the financial services industry. Expressing her appreciation, Noelle promises, "I will make everyone at the CME proud of my accomplishments at UIC!"
Julian Pacheco, '22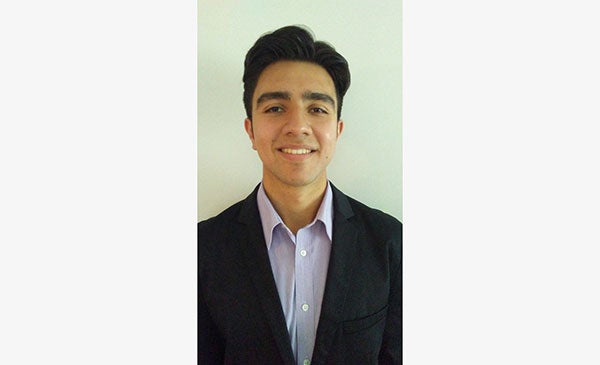 Finance Major, Minor in Business Analytics
UIC Business Scholar
3.90 GPA
Julian is a junior majoring in finance and is a Business Scholar. He is interested in pursuing a career in risk management, potentially in actuarial science.
He has always been determined to obtain the best education and achieve academic excellence. As such, although he lives near the Indiana border, he chose to commute three hours daily to Jones College Prep in Chicago believing that he would receive a better education than at his local high school. Similarly, he continues to commute three hours a day to UIC. It is not easy, but he is committed to his education and also to mentoring his younger brother who has a disability. He has successfully managed his time and maintained his high GPA by prioritizing his coursework and helping his brother over other activities.
Julian is fascinated by fluctuations in the financial markets and seeks to understand how to evaluate risk in order to make wise investments. Upon opening his congratulatory email from the Chicago Mercantile Exchange (CME) Group Foundation, he immediately froze. "As I read the email out loud, I felt pure joy and was proud of what I accomplished. I feel blessed to continue my education without experiencing additional financial stress. I am looking forward to the networking and internship opportunities that the CME will provide and being able to pursue a career about which I am passionate."
Thomas Rueben Rocha, '22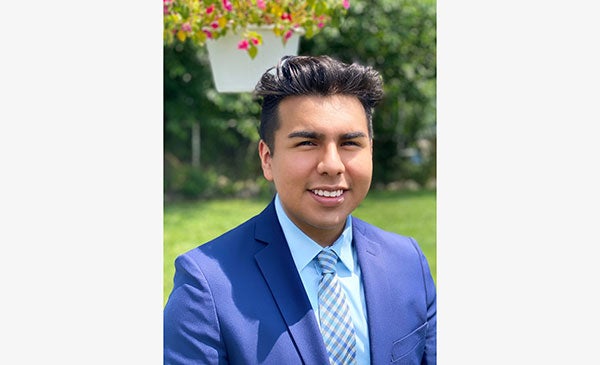 Finance Major, Economics Minor
Business Scholar
GPA 3.5
Thomas is a junior majoring in finance and minoring in economics. He is a proud Business Scholar as well. Thomas is interested in pursuing a career in financial services, focusing on minority groups in his community. "I would find a tremendous sense of fulfillment helping others plan for retirement, save for their children's education, start a new business, or secure a mortgage on a dream home."
He grew up in a close-knit family of six where his parents worked hard, but money was always tight. He and his three siblings shared one bike and went to the library when they needed to use a computer. As he grew older, he gained an appreciation of the struggles his parents faced and felt an enormous sense of gratitude to them for their sacrifices. In high school, Thomas joined a student club in business where he completed team activities and participated in a stock market competition. Shortly thereafter, he decided on a career related to financial planning and good decision making.
Thomas chose UIC as the best value for his money, decided to live at home to minimize living expenses despite a three-hour round-trip commute, and has been working full-time at a fast-casual restaurant with the goal of graduating without debt. Thomas's grueling schedule left him with little time for other activities such as campus student organizations. However, he remains optimistic. "I know that if I truly want something, I have to go after it. Sometimes, being tired is not an option."
When thanking the Chicago Mercantile Exchange (CME) Group Foundation for the award, Thomas expressed that it could not have come at a better time. The financial support will enable him to reduce his work schedule, as well as allow more time for his studies and participating in two campus student organizations that interest him, the Finance and Investment Group (FIG) and the Association of Latino Professionals for America (ALPFA). In addition, Thomas is looking forward to taking advantage of internship opportunities offered by the CME.
Congratulations to this year's winners!
Congratulations to this year's winners!
Modified on August 06, 2021