Future Leaders In Business Junior Program Goes Virtual
The Future Leaders in Business Junior (FLB JR) Program gives 10th and 11th grade high school students the opportunity to learn about careers and programs of study in the field of business. FLB JR is comprised of fun and educational activities meant to empower youth, specifically those from underrepresented communities. A generous donation made by UIC Business alumnus, Al Heller, provided the support that was necessary in order to offer this one-week experience at no cost.
Future Leaders In Business Junior Program Goes Virtual Heading link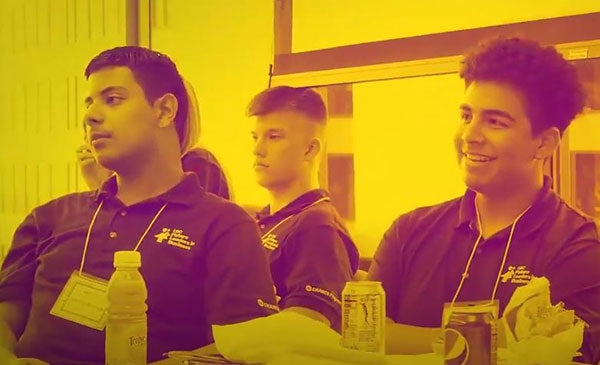 The 2020 FLB JR program went virtual due to the challenges of the COVID-19 pandemic. While faculty, staff and students hoped to collaborate on campus, Zoom sessions proved to be innovative. Nearly 30 students successfully applied and participated in a variety of mock college classes lead by UIC Business professors. Students from all over the Chicagoland area (including one student who attended while in California) learned about accounting with professor Peter Demerjian, business ethics with professor Judge Scully, and marketing with professor Sajna Razi. They also learned about management, finance, human resource management, and the field of information and decision sciences with professors Conor Callahan, Özgür Arslan-Ayaydin, Zhenyu Yuan, and Doug Lundquist.
In addition to learning about each of the UIC Business undergraduate programs, students received instruction in communication, networking and self-reflection. FLB JR was led by Admissions Counselor, Jennifer Frausto, who works with the UIC Business Recruitment and Admissions team. Jennifer introduced participants to the many professional development opportunities within the college, and gave them advice on the application process.
Students had the chance to connect with current business majors and learn about leadership through student organizations. They also met Al Heller himself. Al, the alumni donor for the FLB JR program, shared his experiences and words of wisdom with the group. The week ended with thoughtful reflection on what each participant learned.
As one proud student exclaimed, "I felt welcomed and like part of a community during this program. One of my favorite moments was meeting the accounting professors…I enjoyed it so much that a few days later, I enrolled myself into an accounting class for my junior year of high school and I'm really looking forward to it!"
Modified on February 04, 2022