Fall 2020 Accelerated MBA Program Student Shares his UIC Business Journey Amidst the Pandemic
Nicholas Medline is an MBA student at UIC Business planning to major in finance. He grew up in Toronto and moved to Evanston, Illinois to study journalism at Northwestern University. Over the last five years, he worked at the Big Ten Network in Chicago, most recently as a graphics producer for live TV sporting events. He has had an incredible virtual experience in his first two months at UIC Business. He looks forward to getting involved in student-led initiatives and giving back to the local communities in need.
Welcome to UIC Business(virtually!). How has your semester been so far? Are you taking any classes that meet in person this semester?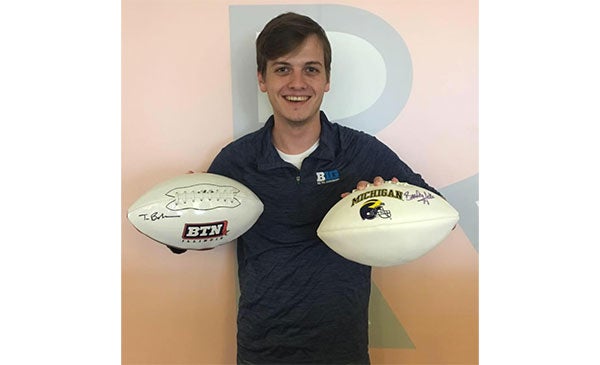 Welcome to UIC Business(virtually!). How has your semester been so far? Are you taking any classes that meet in person this semester?
Thank you for inviting me to write this post! My first semester at UIC Business has been amazing so far – very busy but very rewarding. I'm currently taking courses in financial accounting, economics, and social entrepreneurship. None of these meets in person, but I'm impressed by the overall level of class engagement and participation, even in the online setting.
Can you give us a brief snapshot of your life in the past 6 months?
In March, I made the decision to transition from my seven-year career in sports journalism to the pursuit of an MBA. I studied for the GMAT and read a number of great business books including "Barbarians at the Gate" and "Liar's Poker." I felt immediately as though UIC was the perfect fit for my graduate studies and made the decision to apply. Shortly after, I accepted an offer to join the Accelerated MBA Program. It has been a challenging six months in many ways, but I'm extremely grateful for this opportunity to join the UIC community and pursue my MBA dreams.
Even though you don't meet your classmates, faculty in person, tell us about your side of the story – being connected virtually with classmates, project partners, asking questions in class. What is the "new normal" student experience for you in class and what are the advantages or disadvantages of this new experience?
This "new normal" relies even more on every single person staying motivated and contributing in the virtual classroom. From my experience: the most effective participation has nothing to do with knowing the most or having all the right answers. The best classes are driven by people making the extra effort and asking the tough questions. We're all professionals, and despite the challenges of online lectures, I think our class is succeeding in making the most of this experience.
What has been that one unexpected gain for you due to this "new normal virtual world" and how has it helped you, personally?
The one unexpected gain in my life has been improved balance. My primary goals are to thrive in the UIC Business community, learn new skills, and improve my career prospects. However, I realized my "best" is not possible without a focus on other aspects of my life. It is important for me to spend time on my hobbies: reading, running, studying baseball statistics. And it is essential to stay closely connected to my friends and family members throughout the process. That remains a major emphasis moving forward.
What advice do you want to share with the students who are planning to begin classes in 2021?  How should they prepare to face the changing nature of the pandemic and their academics?
My best piece of advice is to stay connected to faculty. Reach out to career coaches and plan your job and internship search. Ask your academic advisor for key course recommendations. Most of all, attend office hours and contact your professors whenever you need help. I chose to attend UIC primarily because of the excellent faculty, and their passion for teaching and guiding MBA students and that has been the early highlight of my experience so far.
Lastly, do you think going virtual has helped you learn a few skills which are now inevitably going to survive in the "new normal" world?
This virtual world has helped me improve my communication skill and make it seem seamless across so many platforms. I think it is absolutely essential in this age to make a consistent positive impression over phone, email, Zoom, social media and career sites. Even when our usual human interaction resumes, quality virtual presentation will remain vital. Plus, these relationships and connections made online in the UIC Business community will carry into the "new normal" world and create a strong network.
Thank you so much Nicholas for choosing UIC Business to start your MBA journey and we wish you all the very best for the rest of the semester. To get in touch with Nicholas, please feel free to send an email to him or connect with him on LinkedIn.
Modified on August 06, 2021