A Welcome Message from Angela Prazza Winters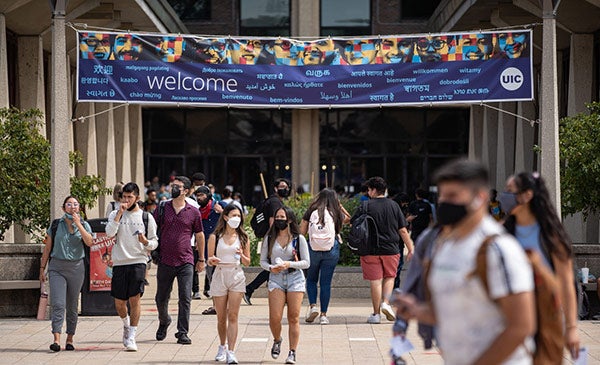 Welcome, New and Returning Students,
As you start the 2021-2022 academic year and anticipate the array of academic and co-curricular opportunities and challenges, I hope you feel motivated and excited to be at UIC. I want to personally welcome you to campus for a promising year!
While this semester is considered a transitional term considering the pandemic, we must acknowledge that this past year and a half has been difficult, but it has also brought out the innovators. You learned how to adapt and thrive, and you may have even cultivated some new habits. Undoubtedly, you learned to use technology (some days are better than others). Also, you learned how to be self-sufficient and motivated without the promise of a classroom and peers to keep you going. And while we are so excited to be on campus for many classes, these habits, which are now skills, remain. Keep your innovation and motivation close. You will need them as you progress through your academic career. As a student, you are more resilient than ever!
Your college and its dedicated faculty and staff have also learned a lot during this time. We adopted new technologies, found ways to collaborate online, keeping real-world business projects alive and well in the classroom. We have adapted group advising, virtual career fairs, and live chats with our admissions team. We continue to work hard to be sure that your experience is one that is memorable and transformational.
Be challenged, be engaged, and be intentional. Remember, you get out of this what you put in.
Have a successful and fun semester. Go Flames!
My Very Best,
Angela Prazza Winters
Assistant Dean, Student Services
Modified on November 24, 2021